Eating and drinking
In Garda there are numerous restaurants and bars that offer the possibility of tasting delicacies from the local cuisine and and other recipes. In addition, various food and wine events take place throughout the year, giving unique opportunities to savour specialities of the area.

Those who wish to relax at the hotel after a busy day discovering Lake Garda can sit by our swimming pool or on the terrace and enjoy a drink, an aperitif or a snack.
Breakfast
Breakfast is very important to start the day on the right foot, even on holiday. That is why we prepare a rich and varied buffet every day to satisfy all the tastes and dietary needs of our guests.

In particular, for celiac guests we offer a selection of delicious baked goods and gluten-free cereals for a tasty and nutritious breakfast.

For those on a vegetarian diet, we have a number of tasty options available such as scrambled eggs, fresh fruit, dried fruit and yoghurt. Vegan guests have a wide choice of wholegrain cereals, muesli, soya yoghurt, vegan pastries and soya, almond and oat drinks. We also offer different types of coffee, including barley coffee, and prepare tasty and frothy cappuccinos, both classic and vegan with soya milk.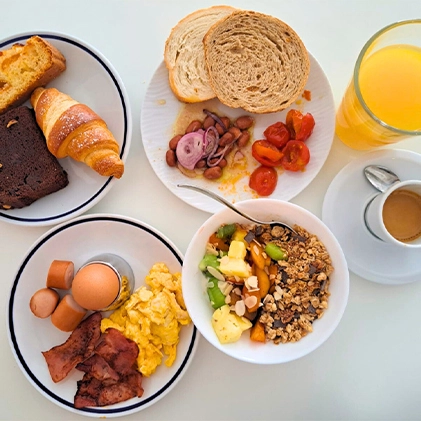 Restaurants
In Garda, you can find many restaurants where you can sample local, Italian and other cuisine. In particular, some restaurants serve traditional lake fish dishes, such as "Bigoli con le sarde", pike in sauce or risotto with tench.

The restaurants that we generally recommend to our guests are those where we always like to eat.

For example, Ristorante La Bussola specialises in seafood cuisine and is equally good for pizza and first courses; Osteria Caffè Amaro, on the other hand, serves typical Veronese dishes and wines. In addition, hotel guests can enjoy a 10% discount at the Ristorante La Bussola.
Bar
In Garda, there are many bars where you can have an aperitif with a lake view, sip a drink or enjoy an ice cream after dinner. Often these bars also organise events with live music, creating a unique and pleasant atmosphere for all visitors.

Hotel guests can also sit on our terrace or on the sofas and use our bar for a drink by the pool or to enjoy some snacks and an aperitif before lunch or dinner.