Canoe tour
Discovering the Bay of Garda on a canoe is the best way to admire spectacular views and the fascinating beaches and historical buildings such as Villa Canossa and the inn and dock of Punta San Vigilio.
Canoe tour on Lake Garda
WHEN: every Tuesday, Thursday and Saturday
MEETING: at 10 am or at 6.30 pm at Lido Garda Beach Cafè in Garda
ACTIVITY TIME: about 2 hours
LEVEL: easy
COST: € 30 for adults and € 20 for children aged 5 to 14, accompanied by an adult
WHAT TO WEAR: swimming costume, water sandals or slippers, technical T-shirt and wading shorts
WHAT TO BRING: towel, bottle of water, sun cream and a complete change of clothes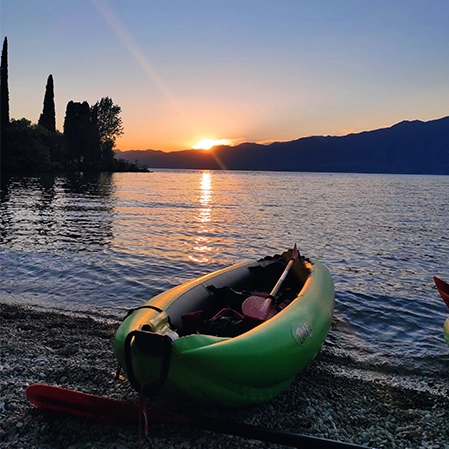 Excursion plan
After the distribution of the canoes and other materials and a short introduction and demonstration of paddling technique, you will set off together with a guide towards Punta San Vigilio.

During the excursion you will see Baia del Corno and Villa Canossa and you will arrive in front of the Locanda and the small dock of Punta San Vigilio.
Booking
Excursions can be booked directly at the hotel at our reception, by filling out the contact form below, by sending an e-mail or by calling us at +39 0457256105, by 5 pm on the previous day.
CANCELLATION: free up to 24 hours in advance, after which a cancellation fee of the full amount of the excursion will be applied.
Besides the Canoe tour on Lake Garda, don't miss the other activities: