Verona
An ancient and fascinating city with a history dating back to Roman times, famous for being the stage of Romeo and Juliet's impossible love. But Verona offers much more: it boasts numerous historical and cultural treasures from different eras, including the Roman Arena, Ponte Pietra, Castelvecchio and many other fascinating places.
City tour of Verona
Every Friday, we organise a guided tour for all those who want to discover the beauty of Verona accompanied by an expert local guide that will tell you anecdotes, historical curiosities and legends of the city.
DAY: every Tuesday and Friday
DEPARTURE: at 8.35 am at Garda bus station
ACTIVITY TIME: about 8 hours
WHAT TO SEE: Arena, Piazza dei Signori, Piazza Erbe, Juliet's house, Castelvecchio, Arche Scaligere and Ponte Pietra
COST: € 55 for adults and € 40 for children from 3 to 12 years old
WHAT'S INCLUDED: bus transfer, 90-minute guided tour of the city
Excursion plan
The tour leaves from the bus station in Garda at 8.35 am and, once you arrive in Verona, you will continue on foot towards the historic centre, arriving in Piazza Bra, where you will have time for lunch and a stroll through the narrow alleys of the city.

In the afternoon, your guide will take you to discover the most beautiful sites in Verona, such as the Arena, Piazza dei Signori, Piazza Erbe, Juliet's house, Castelvecchio, Arche Scaligere and Ponte Pietra.

Before returning to the lake, you will have a couple of hours of free time to shop in Via Mazzini or enjoy a good glass of wine in one of the city's many osterias.
Opera at the Arena of Verona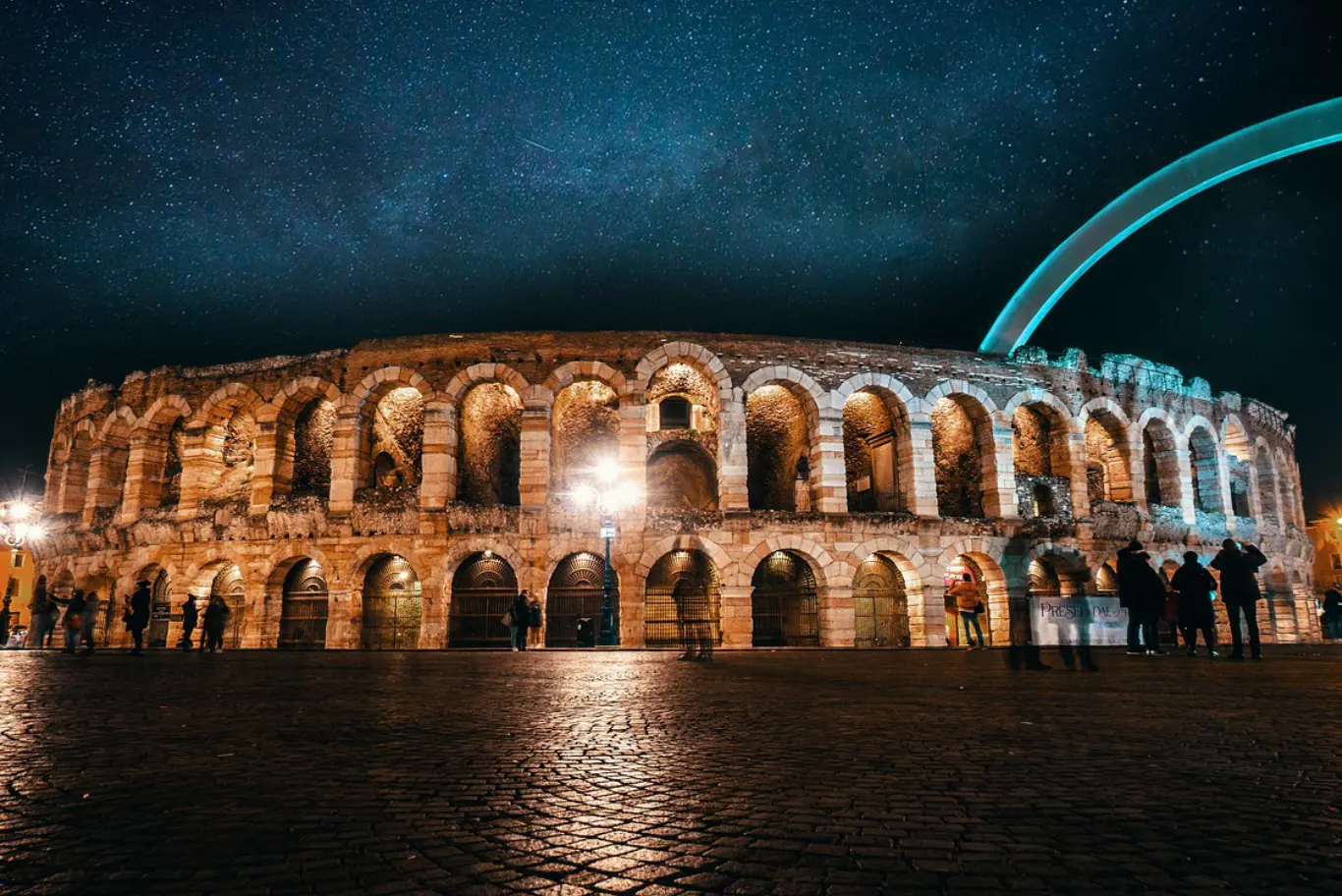 Seeing an opera in the atmospheric setting of the Arena di Verona is an unparalleled experience. The atmosphere created by the majestic thousand-year-old amphitheatre and the starry sky conveys unique emotions that will remain etched in your memory. In order not to miss the opportunity of experiencing an unforgettable evening, we offer the possibility of purchasing tickets with transfer from Garda, so that you can comfortably reach the Arena and fully enjoy the beauty and timeless music that only Verona can offer.
TICKET ONLY: the cost varies according to the seat
TICKET + TRANSFER: includes ticket to the opera and return transfer
TICKET + CITY TOUR: includes ticket to the opera, 1-hour tour of the city of Verona
Booking
Excursions can be booked directly at the hotel at our reception, by filling out the contact form below, by sending an e-mail or by calling us at +39 0457256105, by 5 pm on the previous day.
CANCELLATION: free up to 24 hours in advance, after which a cancellation fee of the full amount of the excursion will be applied.
Besides the Verona tours, don't miss the other activities: